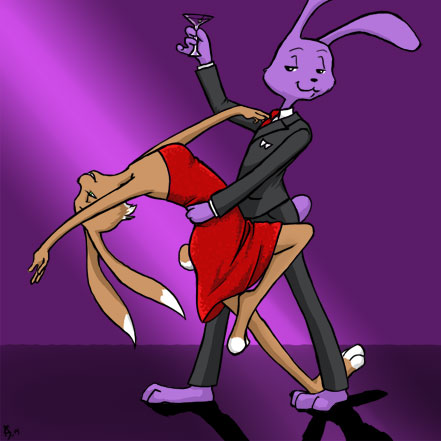 Bunnybread
Lascivious Liquor n' Ladies Laureate
Original recipe makes 1 loaf bunnybread
2 (1 pound) loaves frozen bread dough, thawed
2 raisins
2 sliced almonds
1 egg, beaten
6 bottles of Tanqueray gin
PREP 45 mins
COOK 25 mins
READY IN 1 hr 40 mins
DIRECTIONS
Grease a baking sheet.
Cut off 1/4 of the dough from 1 loaf and form into a pear-shaped ball for the bunny head.
Form the remaining 3/4 loaf into a fat oval shape for the body. Drink. Place the body onto the prepared baking sheet and attach the head by pinching the 2 pieces together.
Make narrow cuts, about 3/4 in deep, on each side of head for whiskers.
Begin to wonder what you are doing with your life. Drink.
Cut second loaf of dough into 4 equal pieces. Roll 2 pieces into 16-inch ropes. Ask yourself whether you have a true sex addiction or if you just really like a more exciting cardio routine. Fold each rope in half, and pinch the ends to the head to form ears.
Cut the third piece of dough in half and shape into 2 ovals about 3 1/2 inches long for back paws. Drink. Attach the paws to the bottom sides of the body. Make two 1-inch cuts on the paws for toes.
Cut the remaining dough into 3 pieces. If you have meth, begin smoking now. Form 2 pieces into balls and pinch on sides for front paws.
Divide the remaining piece of dough into 3 equal pieces and roll into 1-inch balls. Press the dough balls onto the the face to form two cheeks and a nose.
Press raisins onto the face to make eyes. Eyes that see through all the bullshit. They know what you've done.
Press almond slices close together onto face to make bunny teeth.
Cover and let dough rise in a warm place until doubled, 30 to 45 minutes. Continue drinking and start texting any DTF girls you know are available.
Preheat oven to 350 degrees F (175 degrees C).
Brush the loaf lightly with beaten egg.
Bake in the preheated oven until golden brown, 25 to 30 minutes. Remove to a wire rack to cool.
To serve, line a serving platter with lettuce leaves and place the bunny in the center.