live6c

:

F Plus Live 6 | Conjuring Satan | Part 3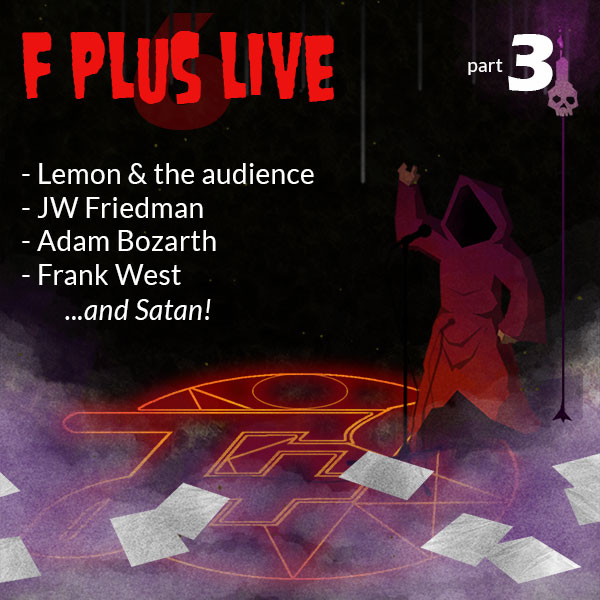 For the last segment of F Plus Live 6, we consult a supercomputer and our nearest available Frank West to learn that we have not yet collected enough magicks to summon Satan. And so, we take drastic measures.
Lemon & The Audience: badfic snippets
J W Friedman: Read how Katy Perry's video Firework is witchcraft and how the spell is cast
Adam Bozarth: The Yahoo Answers of Spanky Gazpacho
Frank West: Shelia Thong Sandal Goddess by mrstanley
Lemon's reading (provided by Lady Frenzy) was cut for time and then performed the next day at the karaoke afterparty. Here is a video of that.
MUSIC USED:
Shawn Michaels - Sexy Boy

Looking Glass - Brandy

DJ Shadow ft. Run The Jewels - Nobody Speak

Clockwork Orange OST - Funeral March of the Queen Mary

Buster Poindexter - Hot Hot Hot!
Additional Fun
Photos of F Plus Live Weekend (Google Photos Album)
Credits & Thanks
This event was recorded live at Grumpy's in Downtown Minneapolis.
All the audio engineering was managed by Boots Raingear and Jimmyfranks
Post processing and audio editing were done by Jimmyfranks
Larger props (including both pentagrams and the F Plus backsplash) were fabricated by Jason Gillman
Show posters designed by Travis Ramsey, imagery and elements from the posters used in graphics for the live episodes
The spell box (including all the envelope designs and spell typesetting) was done by Adam Bozarth
Most of the live photos were taken by Sanguinary Novel (also Ambious)
Speaking of Sanguinary Novel, she designed the tattoos. Here's a pic of Heelies with one on his forehead
Those shirts? Positronic designed those
Satan was played by Victor Laszlo
Lemon's Satanic Coordinator was played by Nutshell Gulag
Thanks to absolutely everyone who came down. It was a magickal evening for everyone involved, and we are so, so pleased with how it turned out. A lot of you people are very nice
To that end, buy someone a drink this weekend. If they don't drink, buy them a taco.